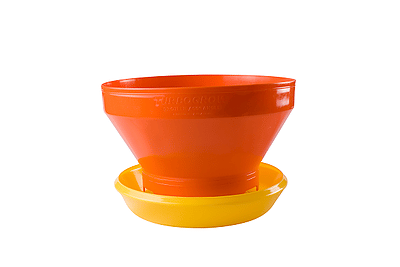 The Classic Round Chick feeder for both broilers and breeders from 1 to 12-15 days of age with an exclusive assembly system. The new improved design features reinforced parts, and improved quality compared to the original design or other copies.
Components:
Hopper and Pan
Hopper: a cylindrical and conic form. 6 distribution windows, 6 strong support arms, Wall has a 60° slope.
Pan: "W" form and design of the lip avoids wasting feed, while keeping chicks from getting in the pan.
Benefits:
Better live weight at first week of age
Better live weight at the end of the flock
Improved Uniformity
Improved Feed conversion
Minimal Feed waste
Method of use:
TURBOGROW can be filled manually or automated by specific feed dispensers like "TT-FILLER and FILL-FEEDER".
Measures:
Pan Height 1.9″
Total Height 7.5″
Diameter 9.85″
Capacity:
10.00 pounds
Recommended density:
50-100 chicks