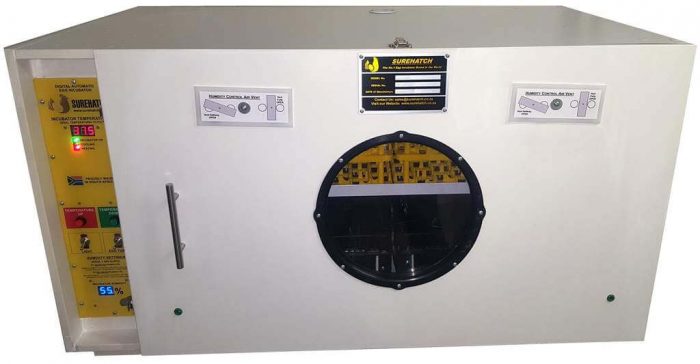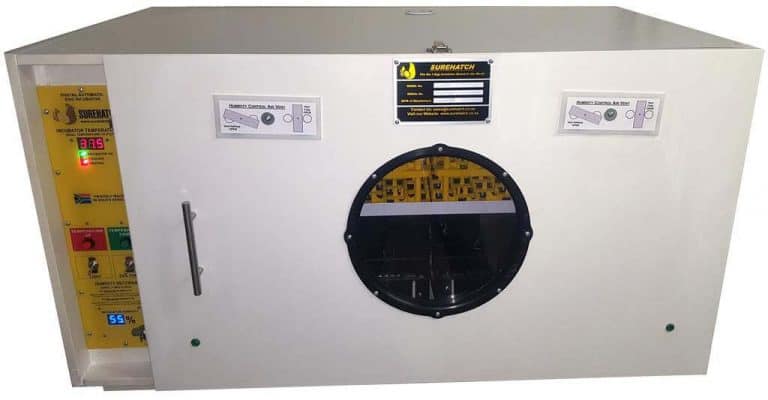 SH560 Automatic Digital Egg Incubator and Hatcher for 560 eggs
Ideal egg incubator for a breeder looking to start a small to medium scale poultry business. The SureHatch SH560 is our best selling medium-sized egg incubator. 
It is widely used by hobbyists, poultry breeders, farmers and entrepreneurs who seek to hatch eggs. You can also use the SH560 Combo as a starting point for your new poultry business.
It can provide you with a steady income by selling the day old chicks that you produce. You will get an exceptionally good return on investment with this incubator.
Setting Capacity: 
Chicken/Duck/Guinea Fowl Eggs: 360 or
Quail Eggs: 520
Hatching Capacity:
Chicken/Duck/Guinea Fowl Eggs: 200 or
Quail Eggs: 520
The SureHatch SH560 can hatch up to 594 chickens per month. The SureHatch SH560 is regarded as one of the best-value-for-money and most advanced egg incubators available on the market.
You need very little space to use this incubator – it can even be placed on a small table. The SureHatch SH560 Egg Incubator is a durable and user friendly incubator that will give you excellent incubation results and many years of service!
Product Description:
The SH560 has the following advantages over other models on the market:
Fully Digital Temperature Control
Easy to regulate Humidity Control
Automatic Egg Turner
Chicken Egg trays included
Access eggs from the front of the incubator, making it easier to load the incubator
Built-in Lightning and Surge Protection
Extra Large Clear-View Observation Window is standard
Incubator made of Ultra Durable, Water Resistant Duraboard
Opti-Flow™  Specialized High Volume Incubator Fan
Maxi-Heat™ Energy Saving Incubator Heating System
Incubator can retain heat for 3 to 6 hours after power outage
Internal Light for observing the insides of the incubator
Anti-Bacterial Inner Coating for better hatch rates
Full Incubation Instructions Included
3 Year Guarantee on all parts
Dimensions: 43″ High x 30″ Deep x 34″ Wide
Weight: 110 lbs
Power Usage: 220V/110V Single Phase, 500 Watts