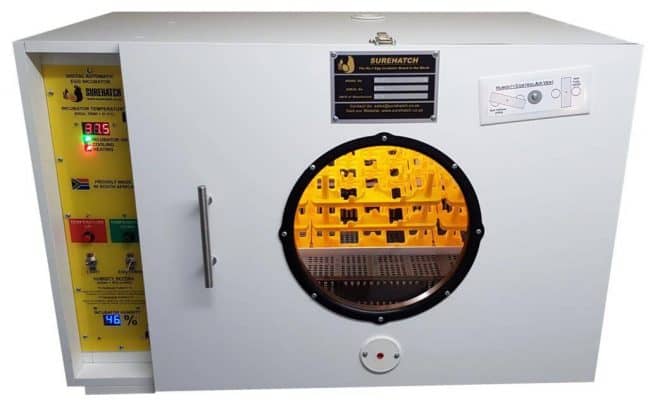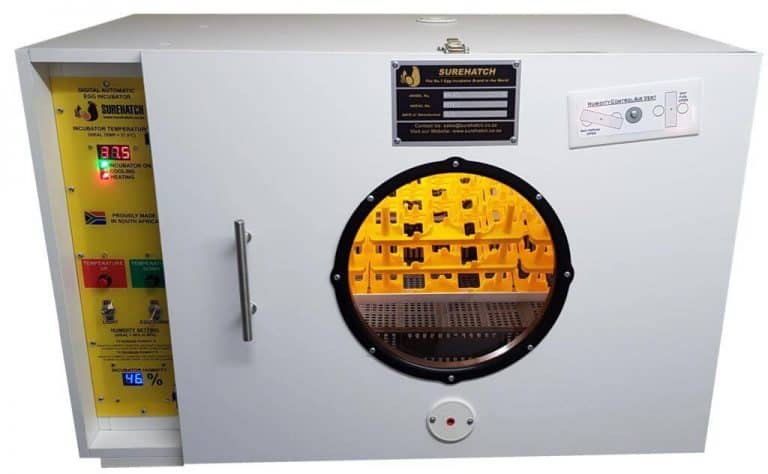 Introducing the ultimate cabinet style egg incubator with front access for easy handling of eggs. Most other cabinet incubators on the market is accessed from the side, making it hard to transfer and handle eggs.
The Surehatch SH370 is a combination egg incubator and hatcher – this means that you can incubate and hatch eggs in the same machine!
Super easy to use with fully automatic incubation temperature controls and automatic egg turning. Ideal for small scale breeders who want a hassle free hatching experience!
Incubation capacity:
Chicken/Duck/Guinea Fowl Eggs: 270
Hatching Capacity:
Chicken/Duck/Guinea Fowl Eggs: 100
Product Description:
The Surehatch SH370 has the following advantages over incubators on the market
Highly accurate, Digital Incubation Temperature Control
Easy to regulate Humidity
Eggs are turned automatically
Chicken Egg trays INCLUDED
Access eggs from the front of the incubator, making it easier to load the incubator
Built-in Lightning and Power Surge Protection
Extra Large Clear-View Observation Window is standard
Incubator made of Ultra Durable, Water Resistant Duraboard
Opti-Flow™  Specialized High Volume Incubator Fan
Maxi-Heat™ Energy Saving Incubator Heating System
Internal Light for observing the insides of the incubator
Ultra Hygienic Inner Coating for better hatch rates
Full Incubation Instructions Included
3 Year Guarantee on all parts
Dimensions: 31″ x 27″ x 26″
Weight: 90 Lbs
Power Usage: 110V, 300 Watts