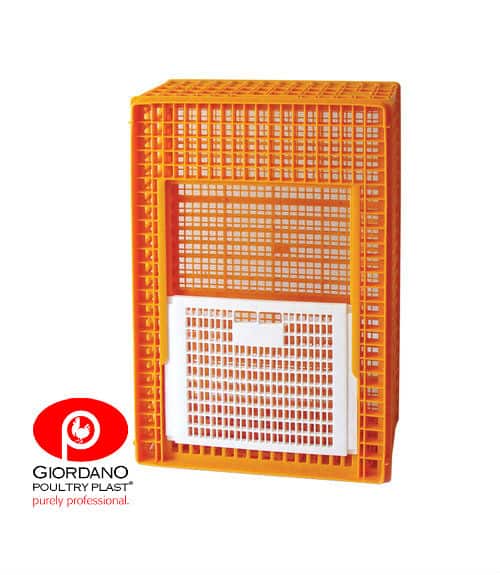 The biggest, most secure, resistant and robust coop for transporting chicken in the market.
Raw material: made of high density polyethylene 100% virgin + UV additive (Compliant with FDA and EEC)
Temperature resistance: 120°C/-40°C
Surfaces: Smooth and round surfaces safe for birds and handling.
Top sliding door: 42x38cm
Size: 97 x 57 x 28 cm
Weight: 8.25 kg
Load bearing: 1.000 kg
Load capacity (internal): 35 kg (10-12 chickens)
Injection screen printing: Area of 67.5×43 mm for name or logo.
Shipping capacity:
53′ box 48′ box Std. 20′ cont. Std. 40′ cont. 40′ HC cont. Chicken truck
Unassembled 1750 1600 500 1150 1300 650
Assembled 700 550 250
Partnership: Our cooperation with Giordano Poultry Plast dates back 20 years ago. Thanks to a joint venture, they started producing Piedmont and Mini-Piedmont cages in collaboration with INDIV. Thanks to this technical and commercial collaboration, GPP is present throughout the American continent, with a very good network of distributors and direct customers. To find out more visit:
http://www.poultryplast.com/other/index.asp?site=2&ln=en&p=1