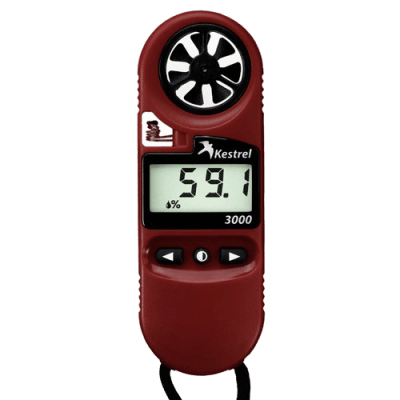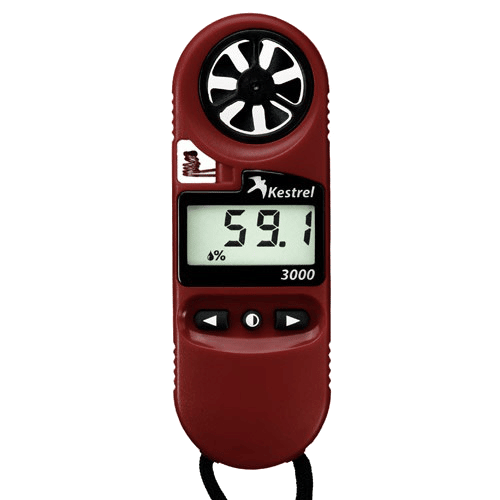 The Kestrel 3000 Pocket Weather Meter is the handheld weather-monitoring device that provides a wide range of functions, plus accurate relative humidity measurements. Before the Kestrel 3000 came along, the technology required to gather this information would require masses of equipment. The Kestrel 3000 Weather Meter measures essential environmental parameters like temperature and wind speeds, and has added advantages for professionals who need access to humidity and heat stress readings.
Because of its compact size and high durability, the Kestrel 3000 and Kestrel 3500 have become the pocket weather meters of choice for Wildland firefighters, concrete professionals, even professional coaches – all of whom need accurate weather info to properly access environmental conditions and make crucial decisions.
The Kestrel 3000's sensitive and user-replaceable impeller technology provides accurate wind speed info. Additionally, an external temperature sensor and waterproof casing allow you to gauge the temperature of water (it even floats) and snow, as well as the open air. A hard slide-on case, lanyard, and battery are included.
Firefighters:
The Kestrel 3000 has traditionally been the choice for firefighters.  It has RH, quick, easy and only $149.  That said… one reason to consider any of the Kestrel 5000 series:
With the new 5000 series (any) technology, the need to calibrate the RH is highly unlikely.
NK will stand by the RH for 5 years, and will adjust it within that 5 years if needed.
NK will repair, recalibrate or replace any defective product within the warranty period.  "Defective" includes measurements outside of our accuracy spec plus stated drift.