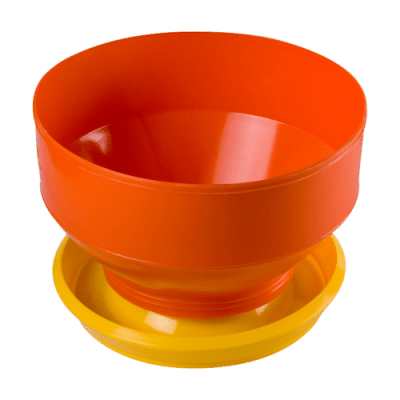 HI-GROW/R is a round plastic chick feeder designed mostly for broiler breeders from 1 to 12-15 days of age. HI-GROW can be used in broiler from 1 to 5 days of age.
Components:
Hopper and Pan
Hopper: 5 heavy duty distribution windows, 5 reinforced support arms, Wall inclination 50°. The feeder has been reinforced in more than 40 points.
Pan: Plain with two levels and various external structures to avoid feed waste and avoid chicks getting into the pan.
Method of use:
HI-GROW can be filled manually or automated or both options simultaneously.
Measures:
Total height: 7.5″
Pan diameter: 10.43″
Total capacity:
9.92 pounds
Suggested density:
1 feeder per 50-100 chicks